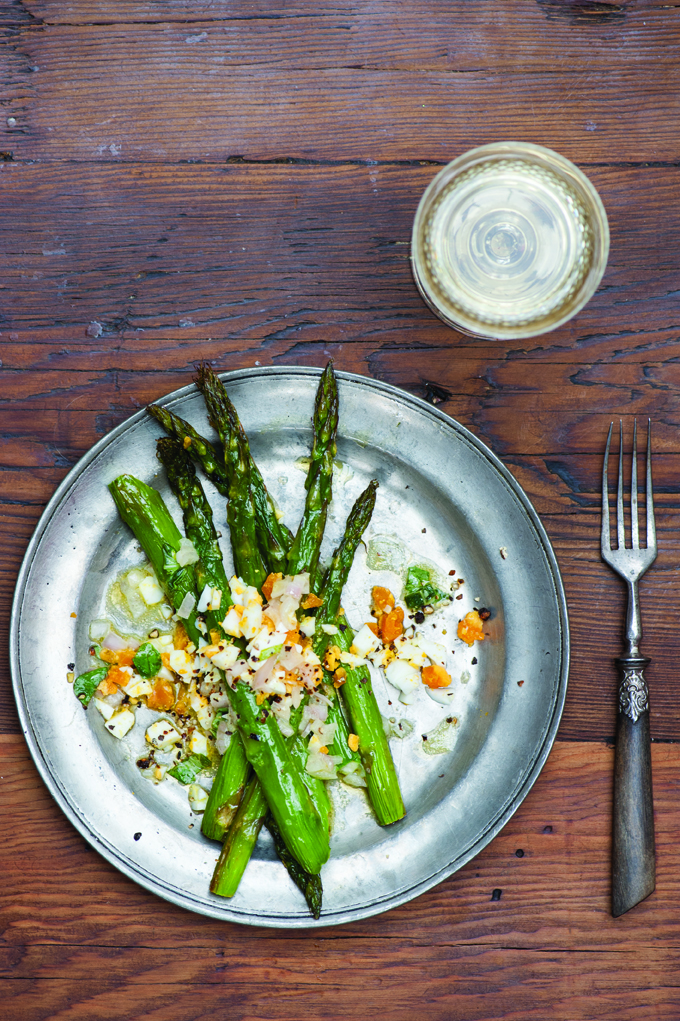 Serves 4
INGREDIENTS:
20 asparagus spears (5 per person)
1 tbsp olive oil
2 eggs, hard boiled
For the dressing
1 tbsp fresh basil, torn
sea salt and freshly ground black pepper
juice of one lemon
1 tablespoon finely chopped shallot
1 teaspoon Dijon mustard
1/8 teaspoon black pepper
80ml/½ cup extra virgin olive oil
METHOD:
1. Pre-heat the oven to 180°C/350°F.
2. Toss the asparagus in the olive oil and season with sea salt and freshly ground black pepper. Place on a baking sheet and bake in the the pre-heated oven for 10 minutes.
3. Whisk together the lemon juice, shallot, fresh basil and Dijon mustard. Season with freshly ground black pepper and sea salt. Then whisk in the extra virgin olive oil in a slow stream.
4. Halve the eggs, then force through a medium-mesh sieve into another small bowl or finely chop.
5. Toss the roasted asparagus with 1 tablespoon of dressing in a large bowl, then divide the dressed asparagus among 4 plates. Spoon additional vinaigrette over asparagus and sprinkle the egg on top.