HAZELNUT & HERB CRUSTED LAMB CHOPS WITH PEA & WILD GARLIC PURÉE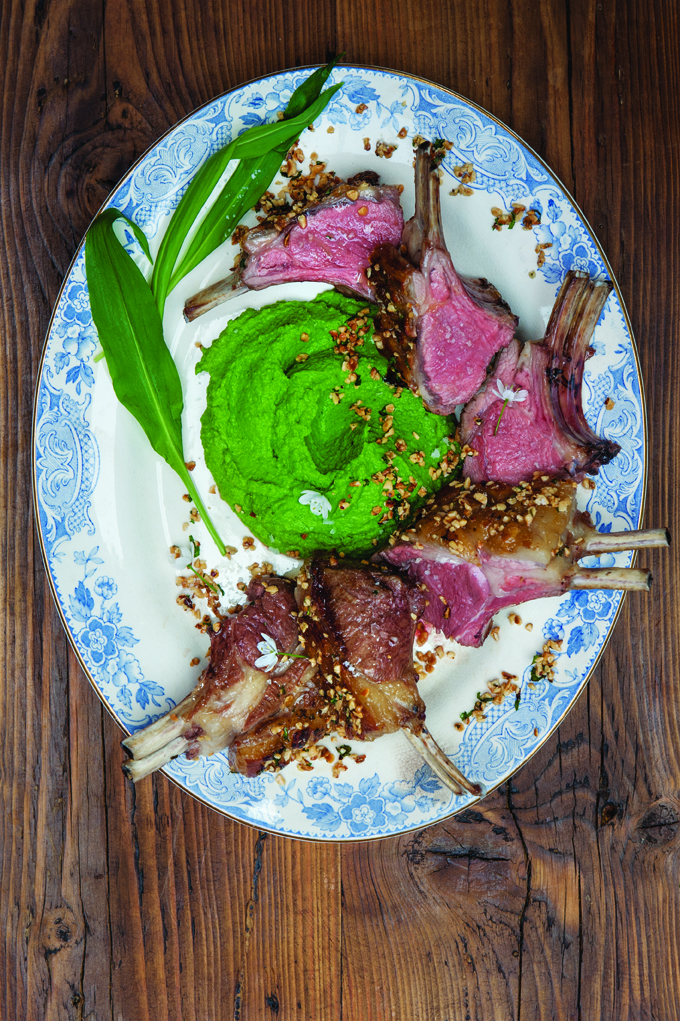 HAZELNUT & HERB CRUSTED LAMB CHOPS WITH PEA & WILD GARLIC PURÉE
Serves 6
INGREDIENTS:
3 racks of lamb (with approx. 6 cutlets on each rack)
2 tbsp of a mix of fresh rosemary, thyme and flat leaf parsley, finely chopped
120g/¾ hazelnuts, roasted and very finely chopped
2 tbsp olive oil
sea salt and freshly ground black pepper
For the pea and wild garlic puree
75g wild garlic, chopped
600g/4½ cups frozen peas
75g/5 tbsp salted butter
METHOD:
1. Pre-heat the oven to 180°C/350°F.
2. Remove the racks of lamb from the fridge at least 30 minutes before cooking. Prep the lamb racks by scoring the fat and searing the fat of the lamb on a hot pan. In a small bowl mix together the chopped fresh herbs , finely chopped roasted hazelnuts and olive. Then press on top the fat of the lamb. Place in the pre-heated oven to cook for 15 minutes
3. To make the pea puree, cook thefrozen peas in a saucepan of boiling water for 4 minutes, then drain. Place the cooked peas in a food blender along with the wild garlic and butter. Season with sea salt and freshly ground black pepper. Blend until you get a smooth consistency. Remove from the food blender and place in a saucepan until you are ready to serve.
Slice the rack of lamb into individual cutlets. Spoon the wild garlic pea puree in the center of four warmed plates and lay 3 lamb cutlets on top. Garnishwith wild garlic flowers and a pert wild garlic leaf.