Wet Parmesan Polenta with Hazelnuts, Thyme and Clonakilty Black Pudding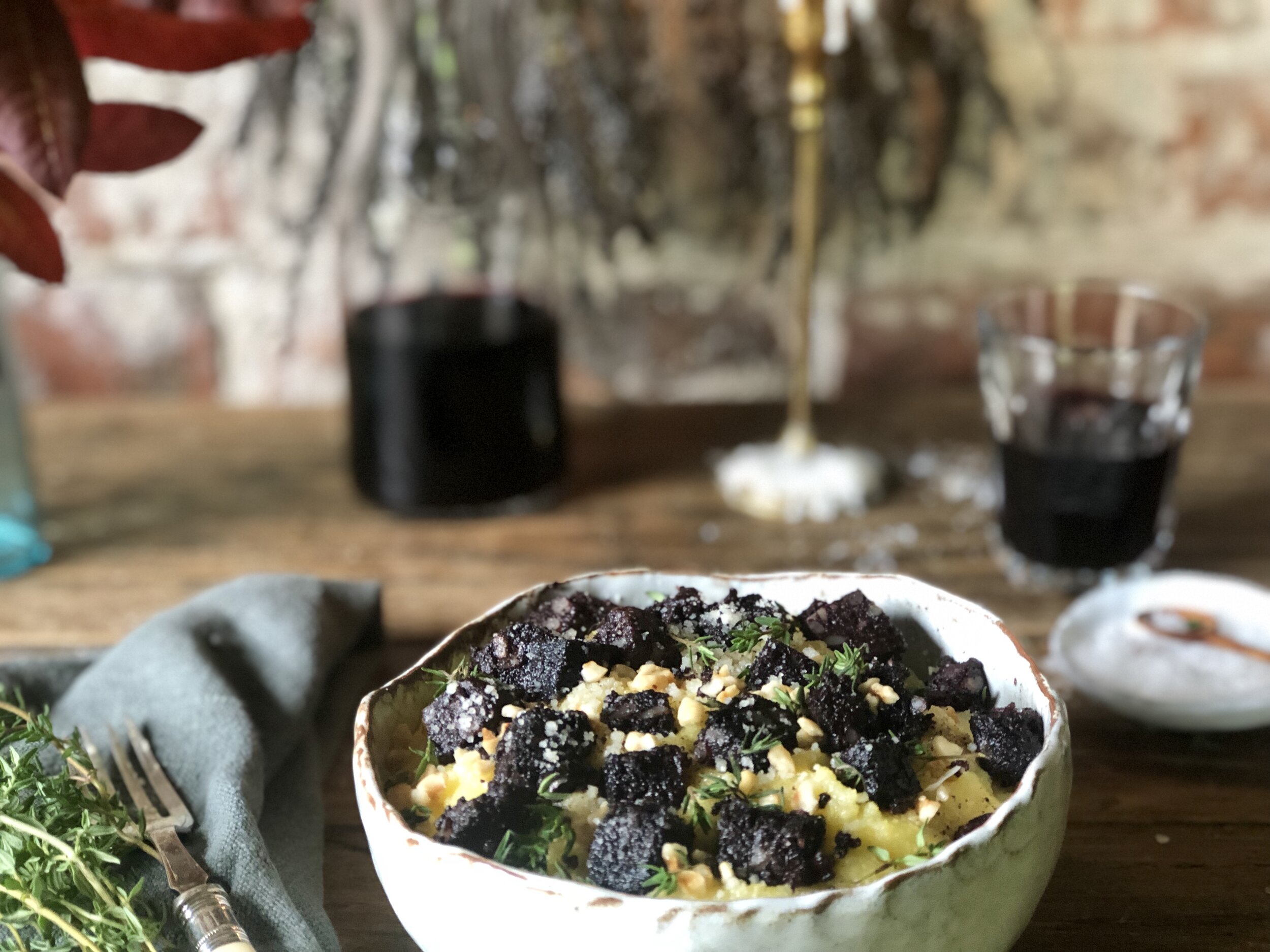 INGREDIENTS:
(Serves 6)
150ml/⅔ cup milk
700ml/2½ cups of water
150g/1 cup coarse polenta
50g/3 tbs butter
280g Clonakilty black pudding
1 teaspoon fresh thyme leaves
100g/1 cup grated parmesan cheese
1 tablespoon olive oil
1 tbsp hazelnuts, chopped
Sea salt and freshly ground black pepper
METHOD:
1. Pour the milk into a large saucepan along with 700ml water and bring to the boil.
2. Once the liquid has comes to the boil, whisk in the polenta. Stir for a minute or two until it thickens. Season with sea salt and freshly ground black pepper.
3. Reduce the heat to low and stir well every five minutes to prevent it sticking for about 35-45 minutes, until the polenta begins to come away from the sides of the pan. You can of course use instant polenta if you wish, that will take about eight minutes to cook.
4. While the polenta is cooking, place a frying pan over a medium heat and add the olive oil. Cut the Clonakilty black pudding into small pieces, and add to the pan. Cook until it becomes nice and crispy on the outside, stirring every couple of minutes so that it cooks evenly
5. Once the polenta has cooked, stir in the butter, grated parmesan cheese and fresh thyme. Stir until the butter and cheese have melted into the polenta.
6. Lastly stir in the black pudding, and chopped hazelnuts.