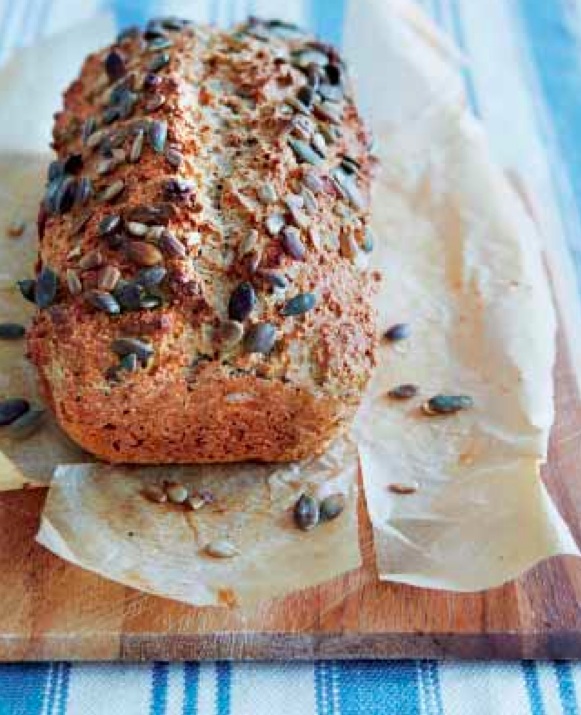 Makes 2 loaves
INGREDIENTS:
450g/3 cups wholemeal flour
65g/½ cup wheat germ, plus extra for dusting
65g /½ cup plain white flour
65g /½ cup wheat bran
65g/½ cup ground flax
225g/8oz pin-head oatmeal
2½tsp soft brown sugar
2tsp bread soda or bicarbonate of soda
1 litre buttermilk
For the topping
2 tsp (one per loaf) wheat germ
2 tsp (one per loaf) sesame seeds
2 tsp (one per loaf) pumpkin seeds
METHOD:
1. Pre-heat the oven to 230°C, 450°F, Gas Mark 8.
2. Pour all the dry ingredients in to a large bowl and mix together.
3. Make a well in the centre of the dry ingredients and gradually stir in the buttermilk
4. Divide the dough between 2 greased 900g (2lb) loaf tins which have been dusted with wheat germ. Smooth the top and make a spacious cross on each one with a floured knife. Sprinkle with wheat germ, pumpkin seeds and sesame seeds.
5. Place in the pre-heated oven at 230°C, 450°F, Gas Mark 8 for 10 minutes, and then reduce the heat to 140°C, 275°F, Gas Mark 1 and bake for 1 hour.
6. When the loaves are cooked, remove from the oven and partly cool in the tins, then turn out and leave to cool completely on a cooling rack.