ROAST THYME & ROSEMARY PARTRIDGE WITH BLACKBERRY SAUCE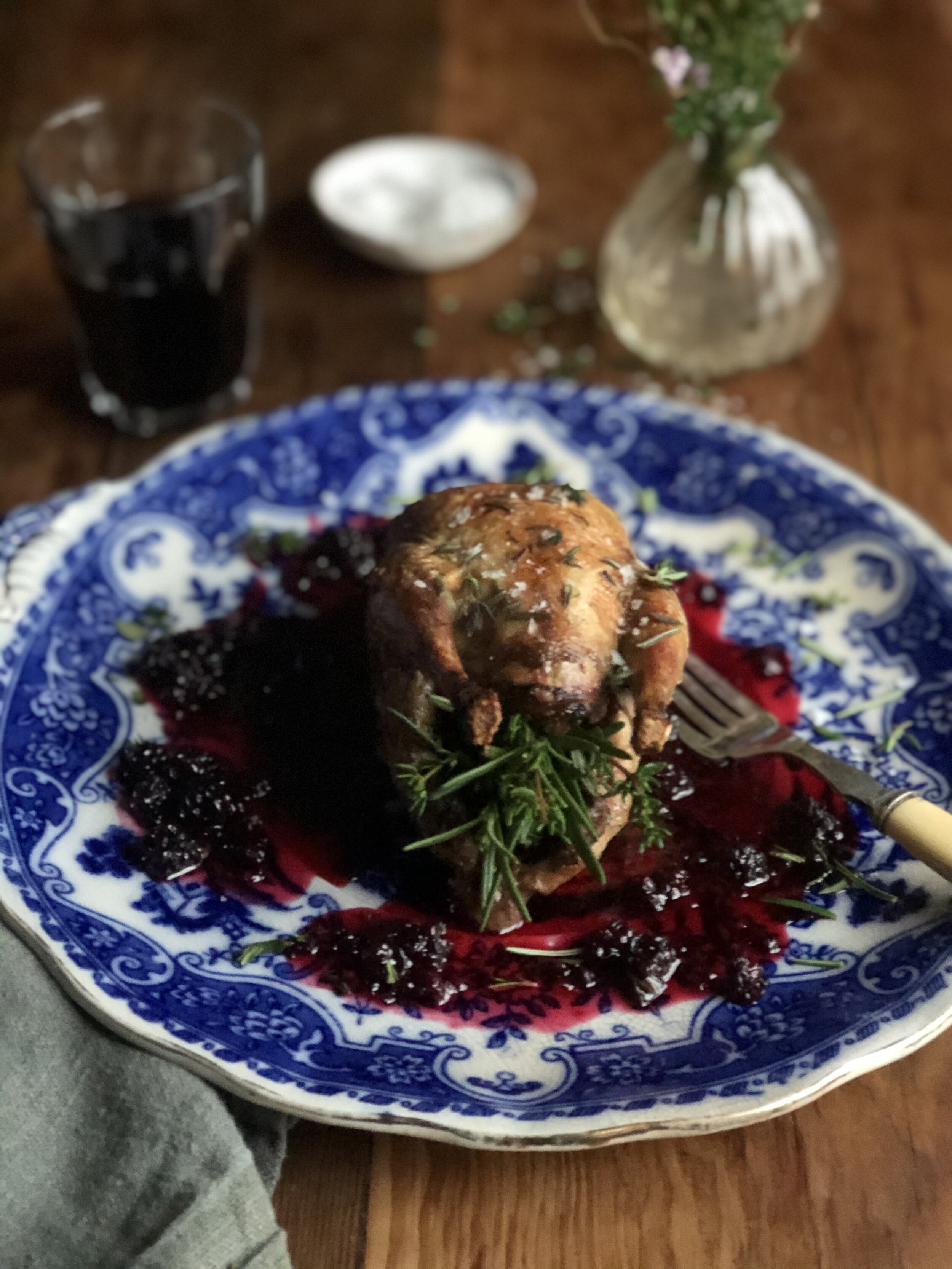 Try serving any of these along side it – buttered winter greens, colcannon (smashed potato with shredded cabbage folded through), celeriac puree, creamed leeks, parsnip puree, or roasted butternut squash.
Serves 2
Cooking time: 20 minutes
Prep time: 10 minutes
INGREDIENTS:
2 x partridges
1 tbsp butter
1 tbsp olive oil
2 sprigs of fresh thyme and rosemary, halved
Sea salt and freshly ground black pepper
For the blackberry sauce
100g/½ cup fresh blackberries
50g/¼ cup sugar
METHOD:
1. Preheat the oven to 200°C/400°/Gas Mark 4
2. Wash and pat dry the partridges and set aside. Heat the olive oil and butter in a frying pan and brown the partridge on all sides until golden brown. Place them in a roasting tin and put the halved sprigs of thyme and rosemary in the cavity of the birds and season with sea salat and freshly ground black pepper. I also smear a bit of butter over the skin or line it with streaky bacon but this is optional.
3. Roast the birds in the pre-heated oven for 20 minutes or until cooked through and the juices run clear when a skewer is inserted to the leg.
4. While the partridges are roasting make the blackberry sauce. Place the berries and sugar in a saucepan over a medium heat and stir. Once the sugar has dissolved reduce the heat to low and cook for ten minutes. Then remove from the heat and that's the sauce made!
5. Remove the birds from the oven once cooked and place on warmed plates. Drizzle the blackberry sauce around the partridges.